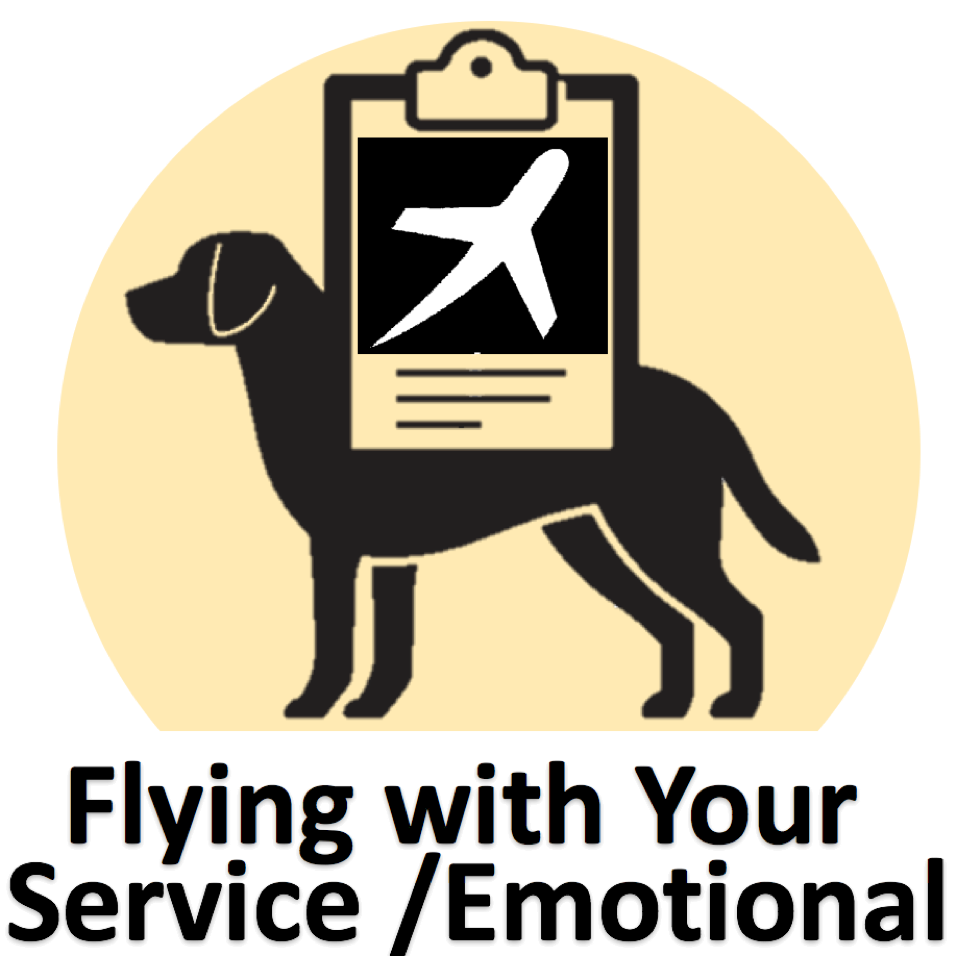 Requirements to Travel on an Airplane with a Service / Support Animal?
Flying with a service / support animal, especially for the first time, may be a nerve-racking process. Our goal is to help reduce your stress and anxiety when traveling with your service / support animal. As a passenger with an service / support animal, you are always entitled to pre-boarding if you meet the check-in requirements at least 48-hours prior to your flight and notify the gate agent of your intention to preboard by arriving to airport 2 hours before your flight.
U.S. Department of Transportation and Airline Policies (Updated on July 7, 2017)
 Major U.S. Airlines
Airline Partners
Special Instructions
Restricted Animals
Contact Information
Alaska Airlines
SkyWest Airlines

Prior to boarding, you must present current documentation to one of our customer service agents.

Hedgehogs, Ferrets, Insects, Rodents, Snakes, Spiders, Sugar Gliders, Reptiles, Non-Household Birds, Animals improperly cleaned/foul odor, Unusual/Exotic Animal

(800) 503-0101
Allegiant Air
(702) 505-8888
American Airlines
(800) 237-7976
Atlas Air
(800) 503-0101
Delta Airlines

Hedgehogs, Ferrets, Insects, Rodents, Snakes, Spiders, Sugar Gliders, Reptiles, Non-household Birds, Animals improperly cleaned/foul odor, Animals with tusk or hooves

(404) 209-3434
Frontier Airlines


Seat space is limited two emotional support animals so an additional seat may be purchased for a third animal.

(801) 401-9004

Hawaiian Airlines

Flights longer than 8 hours require documentation that the animal will not need to relieve itself on the flight or can relieve itself without creating a sanitation issue.

Peacocks, Ferrets, Rodents, Spiders, Insects, Chickens, Roosters, Reptiles, or Live Fish.

(800) 367-5320

JetBlue

In the terminal at Palm Beach International Airport (PBI), all emotional support animals will be properly confined in a cage, crate or other device.

Unusual  Animals (i.e. Reptiles, Ferrets, Rodents and Spiders) or Birds that do not have their wings "clipped or pinioned"

(800) 538-2583

Southwest Airlines

Printable Instructions for SouthWest

Unusual or Exotic animals including, but not limited to, Rodents, Reptiles, Insects, Hedgehogs, Rabbits, Sugar Gliders, etc.

(800) 435-9792

Contact Spirit via phone at least 48 hours before flight.

(801) 401-2222
United Airlines

Minimum 48-hour advance notification, If not enough notice is provided, then pet-travel fees may apply.

(800) 228-2744

Virgin America

(877) 359-8474
When traveling with an emotional/psychiatric support animal you are not permitted to sit in an emergency exit row. No animals are allowed to occupy seats that are designed for passengers. Please understand that with larger service animals or passengers with multiple service animals, we may need to re-accommodate you if the animal encroaches on other passengers or extends into aisles, which would be a violation of FAA regulations. U.S. Department of Transportation 14 CFR Part 382.
We will issue you a letter that meets all requirements for travel on all major airlines within the United States.  For eligibility to travel with your service / support animal, a letter must not be more than one-year-old and presented on the letterhead from the licensed mental healthcare provider who is treating your mental health-related disability.
Our letters will state contain the following:
That you have a mental or emotional disability recognized in the Diagnostic and Statistical Manual of Mental Disorders – Fifth Edition (DSM V)
That you need the emotional support or psychiatric service animal as an accommodation for air travel and/or for activity at your destination
The letter must come from a licensed mental health professional, you must be under his/her professional care with the mental health professional's license number, state or jurisdiction it was issued and must contain the date the license was issued.
All of the above specific criteria must be provided to accept your service / support animal for travel in the passenger cabin. When traveling in the cabin, animal must fit on your lap, at your feet or under your seat. For security reasons, service animals can't block any aisle. Animal must be clean, well behaved and under your control at all times. If the animal is too large, it will need to be checked and travel in a kennel. Advance notice is strongly recommended to ensure all paperwork is in order.
Always contact your airline at least 48 prior to your departure time to allow the airline to make the appropriate accommodation to travel with your service / support animal.